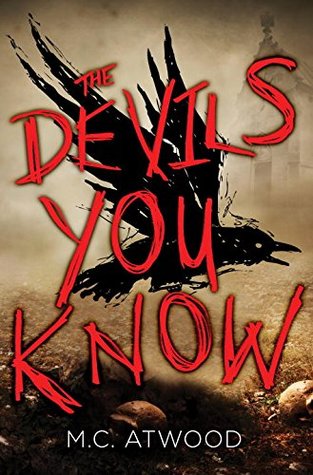 The Devils You Know
M.C. Atwood
Young Adult
Soho Press
2017
Hardcover
280
Plenty of legends surround the infamous Boulder House in Whispering Bluffs, Wisconsin, but nobody takes them seriously. Certainly nobody believes that the original owner, Maxwell Cartwright Jr., cursed its construction—or that a murder of crows died upon its completion, their carcasses turning the land black. If anyone did believe it all, there's no way River Red High would offer a field trip there for the senior class.
Five very different seniors on the trip—Violet, Paul, Ashley, Dylan, and Gretchen—have reasons beyond school spirit for not ditching the trip. When they're separated from the group, they discover that what lies within Boulder House is far more horrifying than any local folklore. To survive, they'll have to band together in ways they never could have imagined and ultimately confront the truths of their darkest selves.
This review contains quotes from the book.
*Special thanks to Soho Press for allowing us to read M.C. Atwood's The Devils You Know.
"The Rashomon Effect–the obfuscation that occurs when an incident is described from competing points of view–is a perfect conceit for a thriller. (The iconic 1950 Kurosawa film concerned a murder, after all.) But until I read The Devils You Know I'd never seen its potential in YA fiction. Within these pages, objectivity is lost in individual biases and motives and contradictions; each of the five characters speaks to his or her own truth. Yet their authenticity ensures that every unique take is true, even when at odds. As illogical as that sounds, it's where the magic of the story lies."

– excerpt from Editorial Director Daniel Ehrenhaft on The Devils You Know
The Devils You Know, a debut horror novel by M.C. Atwood, is a story that you will not be able to stop thinking about.
Five high school seniors go on a field trip to the Boulder House in Whispering Bluffs, Wisconsin because everyone has heard so many rumors about how haunted the property is. But of course no one actually thinks the place is haunted.
The people of Whispering Bluffs do not believe the rumors either, which include stories about the owner cursing the construction of Boulder House. Another theory suggests that crows died right when construction was completed, turning the land black. These five seniors are excited to see what all the fuss is about, and it turns into the perfect opportunity when the whole senior class decides to take a field trip to the haunted property.
Of course the five seniors end up being separated from the main group. After they get separated though, they start to see the truth behind all of the haunted stories. Now they all have to stick together to get through the deadly game they have to face. During the deadly game, the truths they have been hiding within themselves comes to light, throwing another wrench at the unsuspecting teens.
What I liked most about this book was that I got to read all five of the seniors' perspectives. It gave me insight on how each of them was feeling and what kind of secrets they kept to themselves. I also liked how intense the plot was. I never knew what was going to happen next, and I got chills after every chapter.
Atwood kept me on my toes in the best way possible. I would recommend The Devils You Know to anyone who loves Stephen King, but is looking for the young adult version of his work, as Atwood certainly did an excellent job scaring the heck out of me.
I am a sophomore in college. Books are my passion and I hope to work in book publishing once I graduate.
Aaron Falk returns home after one of his childhood friends is brutally murdered with his family.